Management Team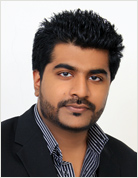 Executive Director
Mr. Ashhar Abdul Latheef
Although this young gentleman has only recently joined board officially as the Executive Director, he has been involved in the operations as the Management Coordinator for the last 4 years working to co-ordinate communications between the management and different divisions within the company. Therefore, he is far from new to the business.
The degree in Finance and MIS, coupled with the guidance he gets from the vastly experienced top executives at Hercules should enable him to now upgrade the family business.
He literally represents the "new blood" at Hercules. And with his addition, one expects to see more "new blood" in the organization to take it to the next phase of its evolution. Only time will tell what he is about- and we at Hercules are excited to see what will be.